Project Updates
06 Nov 2017
In October Geoff and I delivered two of what we hope will be many more public talks about All The Stations. Both were hosted by London Transport Museum.
The first was an in-depth look behind the scenes and stories of the project; from the germ of the initial idea to what it felt like to pull in on the final train at Wick Station. We shared some of our favourite, and hardest, moments as well as revealing exactly what happened during the Peterborough incident!
The second was for our younger ATS fans, aged 16 and under. Similarly, we spoke about our favourite places, the people we met and how we planned the journey from beginning to end.
For both events we invited questions from the audience and we were genuinely thrilled by everyones curiosity. From questions about logistics, route planning, favourite Moquette and castles to an interest in how we think the network could be improved, which parts need the most investment and how we can advocate for better services. The inquisitive nature of everyones thoughts reflected strongly the appraoch that Geoff and I took throughout our journey. We were learning and discovering new things all the time, eager to find out more and to discover what we didn't know as well as confirm that which we did.
Our sense of curisoity can often be hampered by a fear that we should already know the answer, that it would be embarrassing to reveal that we don't know something - particualrly if it's a subject we're interested in and have spent time learning about. Throughout the journey the more questions we asked the more all kinds of possibiltiies opened up to us, the more places we visited and the more people we met.
Your questions at these events really helped us to understand what people have been enjoying about All The Stations, and also what other stories we should investigate and tell in the future.
Thanks to everyone for being so inquisative, keep the questions coming!
---
14 Oct 2017
The railway is a source of inspiration not just for journeys but for art, music, horticulture, poetry and prose. We saw so many creative projects as we travelled around the network this summer it seemed inevitable that we would be inspired to try something ourselves.
In September we messaged our Kickstarter backers to ask who would be interested in an experiment to create a human version of the BR double arrow logo we all know and love. Approximately 100 people responded to call.
And it was our backers who once again came to the rescue when the question of a location needed to be answered. Steve, works for Charlton Athletic Football Club and kindly arranged for us the use of the club's training ground.
Despite engineering works trying to scupper our plans to meet everyone at nearby New Eltham station, we managed to get everyone together on Sunday 8 October.
As well as being a really fun afternoon, it was also wonderful to meet more of the people who made All The Stations happen. Here are a couple of behind the scenes pics that people took of the day.
If anyone has any more, we'd love to see them.
Great to see @geofftech & @norwegiancheese at work when I took part in their project for @allthestations on Sunday. https://t.co/qYP4MzbPU0 pic.twitter.com/1Nblyrnd33

— Glen (@well_eye_never) October 13, 2017
This happened last Sunday link to the vid at @allthestations #allthestations pic.twitter.com/ltHebm9Z61

— Paul Das (@TheFAD) October 13, 2017
Our thanks go again to Martin for drone footage, and Charlton Athletic for the use of their facilities.
---
07 Oct 2017
During August, whilst Geoff and I were on the All The Stations adventure we challenged you, our followers, to take an adventure of your own. The rules were simple;
Print off our special Have An Adventure sign.
Travel to a station you've never been to before.
Take a picture of yourself with the sign at your newly discovered station.
Email us the picture.
We were overwhelmed by the responses. Literally hundreds of you got in touch having travelled far and wide to visit new destinations. We even had entries from those outside the UK who wanted to join in the fun!
Take a look at some of the legend adventurers in our montage video.
Thanks to everyone who took part. We hope you are still feeling inspired to take a random train journey somewhere new, and if you do be sure to let us know on Facebook or Twitter.
---
03 Jul 2017
Having had a keen interest in Railways since I was head-high to a buffer stop, seldom did I really take notice of station names.  Sure, the ones on my local line in Berkshire I could reel off along with all the big stations around the country, but since the start of this project I have taken a greater interest in the stations that most people would never had heard of or travelled anywhere near.  I have been asked by the All The Stations team to put together some interesting stats on #allthestationnames.
DISCLAIMER:  All station name data has been taken from the ORR Estimates of Station Usage document and double-checked with the National Rail Enquiries Station Search for any anomalies (which there were a few!).  If you spot something incorrect, contact me on Twitter.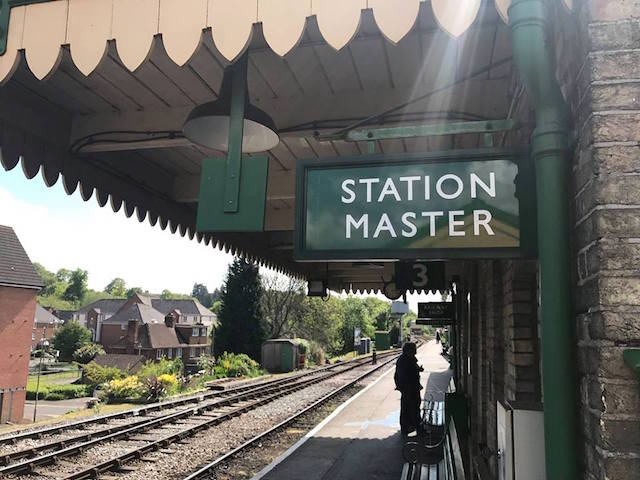 High Streets
According to 2009 statistical data there are 5,410 High Streets in the UK. Yet there are only THREE stations with the suffix HIGH STREET, all of them being on the London Overground network. 
The List:
Clapham, Shoreditch and Watford.
Highs & Lows, Ups & Downs
There are a total of TWENTY stations featuring the words HIGH or HIGHER (7), LOW or LOWER (5), UPPER (4) and DOWN or DOWNS (4).
Only two locations have both a HIGH and a LOW.  The first is HEATH. HEATH HIGH LEVEL is on the line between Bargoed and Penarth and HEATH LOW LEVEL is on the line between Radyr and Coryton.  According to Google Maps the stations are a walk of 302 feet (100 yards) but are in completely separate postcodes (CF23 5QJ & CF14 3RJ).  The other is TYNDRUM.  Curiously though, one station is UPPER TYNDRUM (on the line to Fortwilliam) and the other is TYNDRUM LOWER (on the line to Oban).  The stations are ¾ mile walk apart but unlike the Heath stations, their postcodes are only different by the end letter (FK20 8RQ and FK20 8RZ).
New for Old
There are a total of 22 stations that have the word NEW in them but only 3 that have the word OLD.  These are as separate words, not part of a station name i.e Newbury.
The List: NEW
Ashurst New Forest, Birmingham New Street, Bootle New Strand, Byfleet & New Haw, New Barnet, New Beckenham, New Brighton, New Clee, New Cross, New Cross Gate, New Cumnock, New Eltham, New Holland, New Hythe, New Lane, New Malden, New Mills Central, New Mills Newtown, New Milton, New Pudsey, New Southgate, Pontypool & New Inn
NEW CROSS & NEW CROSS GATE, on separate arms of the London Overground network, are less than a half mile walk between each other while NEW MILLS CENTRAL on the line between Manchester Piccadilly and Sheffield and NEW MILLS NEWTOWN on the line between Manchester Piccadilly and Buxton are a ¾ mile walk apart.  Both are served by Northern Rail trains.
The List: OLD
Old Hill, Old Roan, Old Street
OLD HILL is a station in the west midlands on the route between Stratford -Upon-Avon and Stourbridge Junction.  OLD ROAN is a station named after an old pub and is one stop up from AINTREE in Liverpool.  OLD STREET is on the northern edge of the City of London and is served by Great Northern services between Moorgate and several destinations in Hertfordshire.  The station is managed by London Underground.
---
01 Jul 2017
Language is a beautiful thing and one of the many joys of travelling around Britain by train is discovering the nuances in local dialects and how these impact on the railways. 
At Bicester Village we heard on-board announcement in Mandarin and Arabic to cater for the volume of international visitors who descend upon this picturesque shopping destination just outside of Oxford. After leaving Ludlow we bumped into Matt, a station designer who spoke of how "access for all" is a key consideration when building new railways and the importance of PA announcements. 
But nowhere has the 'language' of railways been so apparent as in Wales this week, our first 'bi-lingual' stretch of the journey where the vast majority of all signage is in both English and Welsh. 
Armed with a guide to Welsh station names and pronunciation (thank you, Alex!) we've done our best to absorb this beautiful language as much as possible. However, one issue has emerged … 
**How DO you say 'All The Stations' in Welsh?! **Watch the dilemma in the video below and if you're a Welsh speaker do let us know your thoughts!
---
28 Jun 2017
Recorded on 22nd June, broadcast on 27th June 2017, the BBC News correspondent David Sillito came out and joined us between Westbury, Pewsey and Newbury to find us just over halfway through our journey and ask us … "Why?"
---
23 Jun 2017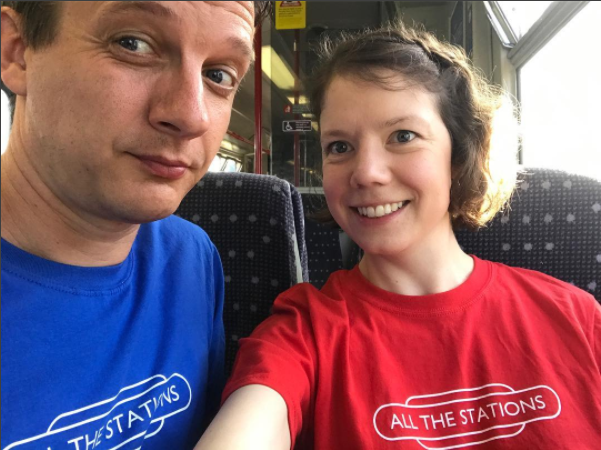 You asked, we listened, All The Stations merchandise is now available to purchase via our online shop!
EDIT: We now have two shops! The first, through the link above, sells sundries such as mugs, badges and travel card holders. If it's t-shirts you're after they have their own dedicated shop here.
That's right, our lovely friend Dan has set up our very own online shop where you can buy All The Stations t-shirts (white with the logo OR the multiple-coloured heritage logo t-shirts as worn by Geoff and Vicki in the videos), mugs, badges and Oystercard holders.
Note that while Dan is a superstar, he is not superhuman. Please remember we're only tiny, a little bit like the platform at Beauly stations, so please be patient and we'll get your merch to you as soon as we can!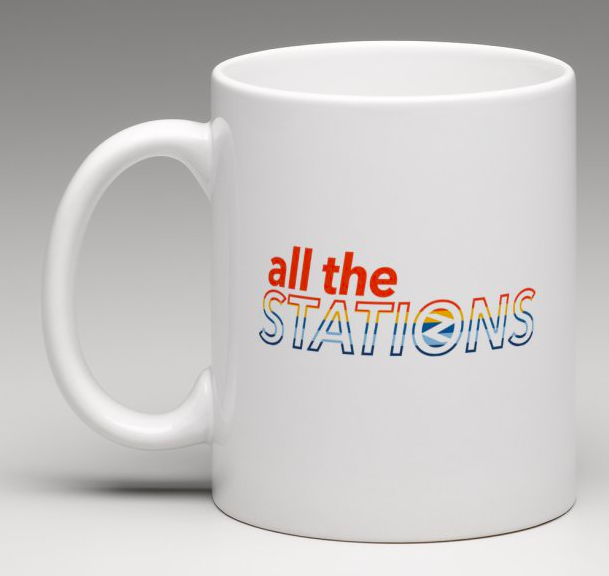 ---
20 Jun 2017
We are HALF WAY THERE. 1,281 stations down, 1,281 stations to go!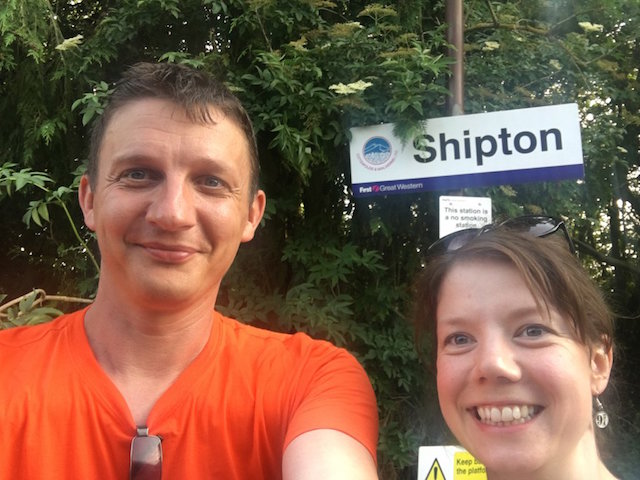 ---
16 Jun 2017
That's right. For those of you who have been humming the theme music for the last 6 weeks and irritating your friends/colleagues/fellow commuters … now you can irritate them by playing your very own copy on repeat!
Huge thanks to Steven Francis, musician extraordinaire. Available on multiple platforms including iTunes, Google Play, Spotify … give your service of choice a search and it should be there. Enjoy!
P.S. We appear to have made it to No.3 in the iTunes (Electronic Genre) chart. We overtook Major Lazer …

---
12 Jun 2017
We are now entering week six of the All The Stations journey. This week, we'll be up in Birmingham, ticking off all the stations in the West Midlands, and after that the journey is going to get harder, as the distance between each station increases. 
We released one of our favourite videos of the series so far today, in which we re-created the cover photo to the Oasis single "Some Might Say", and even had some special music recorded for it … stay tuned until the very end!
Talking of music, we hope that the All The Stations theme tune will be released on iTunes/Spotify/Deezer and all other platforms this Friday, 16th June. We will of course send out links on all our social media platforms as soon as we have them.
Many thanks,
Geoff & Vicki
---
10 Jun 2017
Having had a keen interest in Railways since I was head-high to a buffer stop, seldom did I really take notice of station names.  Sure, the ones on my local line in Berkshire I could reel off along with all the big stations around the country, but since the start of this project I have taken a greater interest in the stations that most people would never had heard of or travelled anywhere near.  I have been asked by the All The Stations team to put together some interesting stats on #allthestationnames.
DISCLAIMER:  All station name data has been taken from the ORR Estimates of Station Usage document and double-checked with the National Rail Enquiries Station Search for any anomalies (which there were a few!).  If you spot something incorrect, contact me on Twitter.
A River Runs Through it …
There are five stations with the word THAMES in them, only three of which are proper towns.
The List
Proper ones - Henley-On-Thames (this really IS 'on Thames' - the river is only about 150 yards from the buffer stops), Thames Ditton, Walton-On-Thames
The Thameslink Two - City Thameslink, West Hampstead Thameslink
"Geoff? Bridges!"
There are 64 stations with the word BRIDGE in the name.  65 if you count the station name of BRIDGWATER (why did they drop the 'e'?). Only 31 of these actually feature BRIDGE as a separate word.  Only two have BRIDGE as the first word, both in Scotland.  One station not on the list is NORTON BRIDGE, although the station is not technically closed, no trains call there.
The List: Bridge as a separate word
Acton Bridge, Apperley Bridge, Appley Bridge, Bamber Bridge, Barnes Bridge, Blythe Bridge, Bridge Of Allan, Bridge Of Orchy, Burscough Bridge, Catford Bridge, Conon Bridge, Guide Bridge, Hawarden Bridge, Haydon Bridge, Hebden Bridge, Hubberts Bridge, Kew Bridge, Kiveton Bridge, Lea Bridge, London Bridge, Polsloe Bridge, Roman Bridge, Roy Bridge, Smethwick Galton Bridge, Smithy Bridge, Sowerby Bridge, Spean Bridge, Tame Bridge Parkway, Three Bridges, Whaley Bridge, Whitley Bridge
The List: Bridge in the word
Battlesbridge, Bridgend, Bridgeton, Bridgwater, Cambridge, Cambridge Heath, Cambridge North, Carrbridge, Coatbridge Central, Coatbridge Sunnyside, Cooksbridge, Corbridge, Dunbridge, Edenbridge, Edenbridge Town, Gorebridge, Hackbridge, Highbridge & Burnham, Ivybridge, Longbridge, Newbridge, North Fambridge, Redbridge, Robertsbridge, Sawbridgeworth, Stalybridge, Stonebridge Park, Stourbridge Junction, Stourbridge Town, Tonbridge, Trowbridge, Tunbridge Wells, Weybridge, Woodbridge
No Catastrophes With Apostrophes!
There are a total of 28 stations featuring an apostrophe and one that features TWO!  Not only that, it also features two hyphens!  The quaintly-named HALL-I'-TH'-WOOD STATION (HID) in Lancashire on the line between Manchester Victoria and Clitheroe.
The List
Allen's West, Brookman's Park, Christ's Hospital, Cobham & Stoke D'abernon, Exeter St. David's, Hall I' Th' Wood, Hunt's Cross, King's Cross, King's Langley, King's Lynn, King's Norton, King's Nympton, King's Park, King's Sutton, Quaker's Yard, Queen's Park (Glasgow), Queen's Park (Gt London), Queen's Road Peckham, Rowland's Castle, Ryde St.John's Road, Shepherd's Well, St.Andrew's Road, St.James' Park, St.James' Street, St.John's, St.Margaret's (Greater London), St.Margaret's (Hertfordshire), Whitlock's End
Catching Some ZZZZZZZZs
Although there are no stations beginning with the letter Z, it crops up in thirteen station names, and twice in one station.
The List
Danzey, Fazakerley, Fitzwilliam, Frizinghall, Furze Platt, Glazebrook, Hazel Grove, Lazonby & Kirkoswald, Leighton Buzzard, Lenzie, Maze Hill, Penzance, Walton-On-The-Naze
Amazing Ampersands
There are officially FIFTY EIGHT stations featuring this special character. There were fifty nine, but National Rail recently changed one to Heathrow Terminals 2 and 3.
One of these stations features the names of two other separate stations – HAYES & HARLINGTON.
Some of them sound like they are either estate agents, solicitors or double acts!
The List
Abergele & Pensarn, Ansdell & Fairhaven, Arrochar & Tarbet, Ashwell & Morden, Bat & Ball, Blundellsands & Crosby, Borough Green & Wrotham, Boxhill & Westhumble, Byfleet & New Haw, Caledonian Road & Barnsbury, Cam & Dursley, Cark & Cartmel, Chalfont & Latimer, Chappel & Wakes Colne, Chestfield & Swalecliffe, Church & Oswaldtwistle, Cobham & Stoke D'abernon, Digby & Sowton, Dore & Totley, Dunkeld & Birnam, Elephant & Castle, Elstree & Borehamwood, Elton & Orston, Energlyn & Churchill Park, Finchley Road & Frognal, Fishguard & Goodwick, Goring & Streatley, Haddenham & Thame Parkway, Harrow & Wealdstone, Hatfield & Stainforth, Hayes & Harlington, Highbridge & Burnham, Highbury & Islington, Hoveton & Wroxham, Ince & Elton, Kirkham & Wesham, Lazonby & Kirkoswald, Lisvane & Thornhill, Mottisfont & Dunbridge, Nailsea & Backwell, Pembrey & Burry Port, Pevensey & Westham, Pontypool & New Inn, Portsmouth & Southsea, Possilpark & Parkhouse, Priesthill & Darnley, Ramsgreave & Wilpshire, Risca & Pontymister, Sandal & Agbrigg, Sandwell & Dudley, Seaforth & Litherland, Seer Green & Jordans, Stanlow & Thornton, Steeton & Silsden, Sudbury & Harrow Road, Tutbury & Hatton, Windsor & Eton Central, Windsor & Eton Riverside
---
08 Jun 2017
Hi Everyone,
All The Stations has now been on the rails for one month. In that time we've reached 983 stations and have 61% of the total number of stations still to go.
So, how's it been going? Here's a quick Vlog from Derby to let you know.
There have been so many highlights already it's difficult to pick one thing in particular, but we enjoyed the visit to Shippea Hill. In fact it was so good, we made two videos about it.
Bonus Shippea Hill video: https://youtu.be/8u9txoAsIKg
"There's no one here": https://youtu.be/01AJAWHNd5o
Our thanks again goes to the team at ATS Mission Control for their never ending support. And to you, for all your tips, comments and encouragement.
To the trains!
Vicki & Geoff
---
05 Jun 2017
One of the many things this journey is taught us so far, is the beauty and identity of the English coastline.
With Skegness as our destination tonight, we look forward to yet another encounter with a seaside town. The mere idea of them conjures up arcades, promenades, piers, ice cream, fairgrounds and, for many, childhood memories. The reality of them is not much different. Our railways continue to open up these destinations and we've received many comments from viewers sharing their own recollections of family holidays and adventures at these seaside destinations.
As Geoff said in Episode 16, overlooking the beach at Essex's Walton-on-the-Naze: "The Railway Delivery Groups's marketing campaign is 'Britain Runs on Rail'. But basically so far it's been 'Rails Run To Stunning British Holiday Destinations!"
Our love affair with English beaches began in St Ives. Here is an audio recording we made while sat on a bench just by the Tate.
The whole day was almost impossible: the weather, the view, the white sand and blue sea. There was a restaurant just below where we were sat and you can clearly hear the sound of clicking cutlery alongside the waves crashing and children playing on the beach. It genuinely felt like an Enid Blyton novel! the sense of adventure and possibility felt just moments away.
---
03 Jun 2017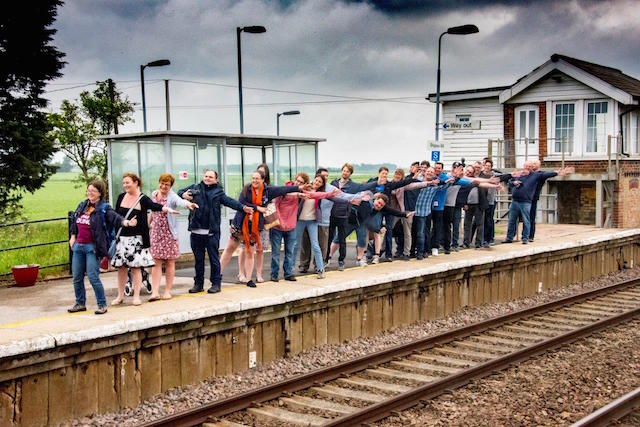 Shippea Hill in Cambridgeshire is famously reported to be Britain's least used station. In 2015/16 it managed to amass a measly 12 passenger entries or exits for the entire year. 
But all the stations means … ALL the stations. Today, Saturday 3 June, we decided to show Shippea Hill some love and invited friends and family to join us on our journey from the station. People travelled from far and wide to catch a train from this tiny request stop just outside of Ely and altogether 20 people alighted the train. As a request stop, we made sure to 'make our intent clear' and flagged down the rather surprised driver. 
Amazingly, three of those people were bonafide passengers who genuinely had turned up of their own accord to catch the train! With a day's shopping in Norwich planned, they probably weren't expecting such a gaggle of excited passengers already on the platform! But they quickly joined in the celebrations. Our collective endeavour even made the BBC News website!
Our video of the day will be up on the All The Stations YouTube channel later this week. Do subscribe if you'd like to be notified as soon as it is published. 
In a future blog we will write about Vicki's new-found family connections to Shippea Hill station, which made the journey extra special. 
Thank you for all your continued support, messages and encouragement. To the trains!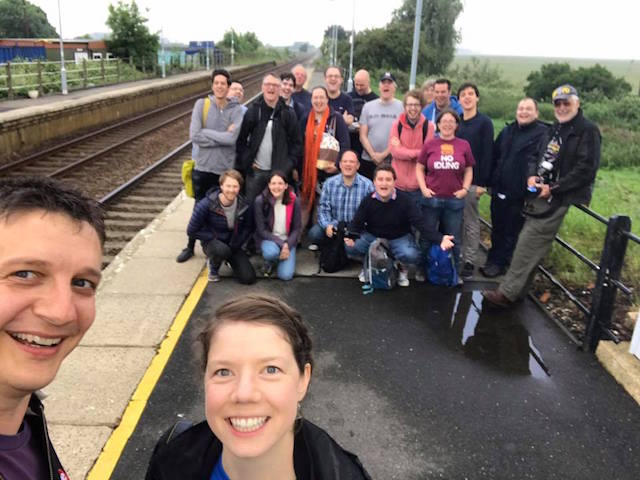 ---
02 Jun 2017
There are ELEVEN of these small, but perfectly formed, station names in Great Britain. We've given you one in the photo above, can you name the remaining ten?
Need a clue? We're currently near Cambridge and will be visiting another three-lettered station tomorrow … 
---
31 May 2017
When asked to think about 'Great British Railway Journeys', you might conjure up images of the rolling hills by the Conwy Valley line or the Kyle of Lochalsh line in the dramatic Scottish Highlands. And while these certainly are scenically stunning, there is still much to celebrate about certain inner-city, suburban lines too. 
One case in point, is the London Overground. Officially launched in 2007 with further extensions between 2010-2011, it is believed that more than 189 million people used the Overground in 2016/2017. The line is a success story. Comfortable, spacious and most importantly useful, it shows just how good a railway can be with the right investment. 
With trains roughly every 10-15 minutes, we found that the line has become an integral part of the capital's transport landscape and was constantly being used throughout the day. On and off-peak, Londoners love the Overground. And we do too. 
Take a look at our video from the day we circuited the London Overgound, for more reasons on why it might just be one of our favourites.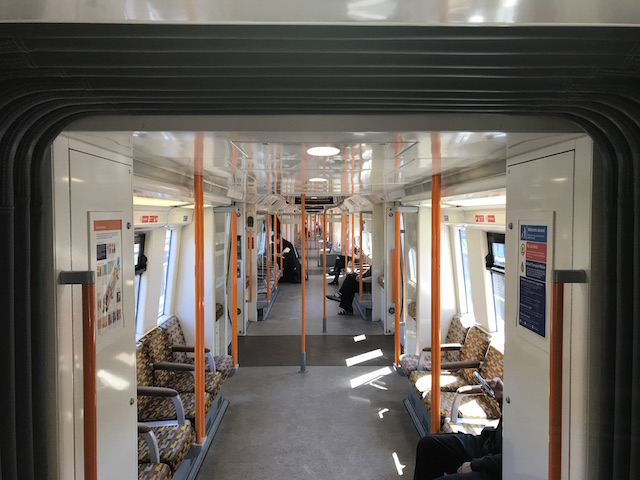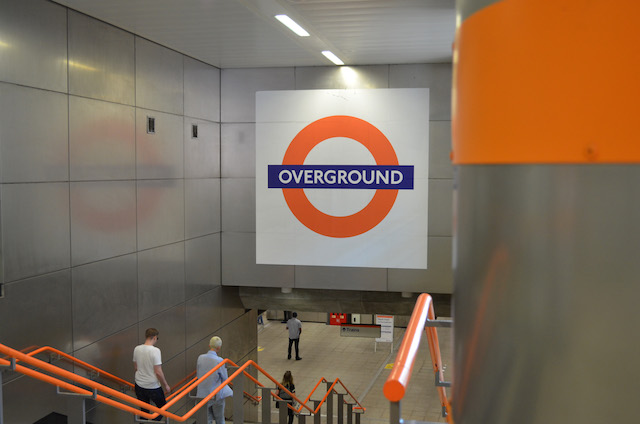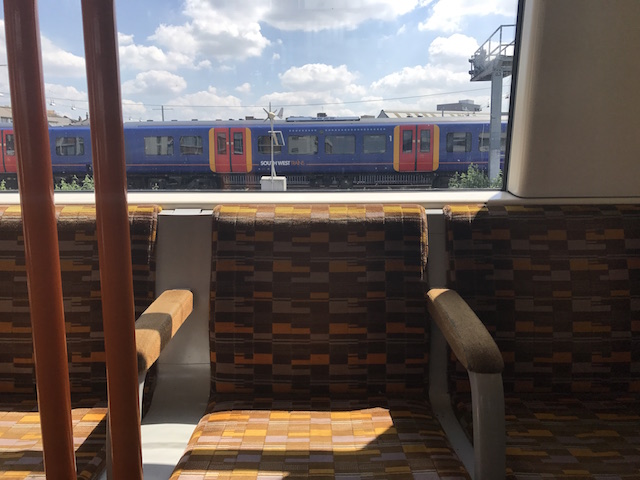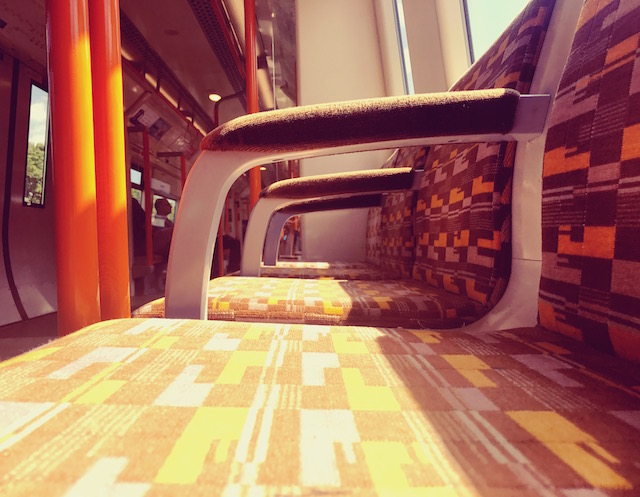 ---
29 May 2017
Can you spot them in this reflection at Stratford Station? (They are there, we promise)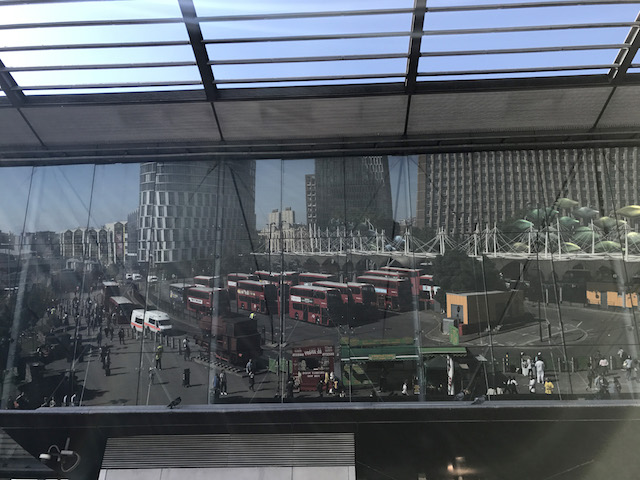 ---
27 May 2017
The first week of All The Stations, we spent some time recording the sounds of the railways. Time permitting, this may be something we continue to sporadically do as the journey continues around Great Britain.
Train travel can be a visceral experience. The feel of the deep rumble of the engine, the ever-changing sights out of the window, the familiar and unfamiliar smells and, of course, the variety of sounds you encounter along the way.
Some of these sounds may be entirely new and unknown. Others nostalgic, habitual, old friends. Already, having travelled through Cornwall, Devon, Dorset, Hampshire, Sussex, Kent, Surrey and London, there has been a huge variation. But let us share one of our favourite railway sounds with you here, captured on our very first day in Cornwall.
What sounds do you most associate with the railway? We'd love to know.
---
25 May 2017
We made a rail journey to Manchester United Halt station on Sunday 21st May, and thoroughly enjoyed our time in this great city. Due to the devastating events which took place on Monday evening at the Manchester Arena, close to Manchester Victoria Station, we will be postponing the release of the video of this trip until next week.
A further bonus video on the Manchester Trams will also now be published next week.
There are a number of charity pages which have been set up to support the families and friends of those affected including:
Our thoughts are with all those affected.
All The Stations Team
---
23 May 2017
This week we're returning to home ground and travelling the suburban lines around London (we will naturally end up visiting all the London termini as we begin to journey farther afield). 
Some people have asked us whether, living in London as we do, catching trains around the capital feels rather dull and ordinary in comparison to the other locations we've been to. The answer is a very simple: no! As Vicki mentioned in a recent Facebook Live video from Haydons Road, it does feel a little strange being on home turf but while we may be looking at familiar stations, we are doing so with an entirely new perspective.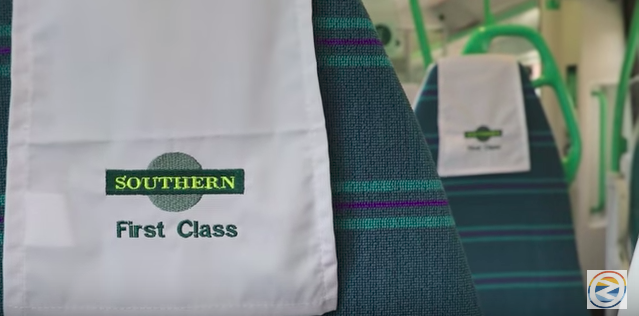 There are also the added benefits of being able to go home at the end of the day (fresh clothes! home-cooked food! reliable internet!), and being more familiar with the lines we know certain tips and tricks. 
As we mentioned in our episode 10 video on YouTube, certain inner London suburban services are advertised as standard class only, which means that if there are first class carriages on board, standard ticket holders are allowed to pull up a slightly more spacious pew! If you're still not sure, check your timetables. If there is a small '1' in a box at the top of the column, that means it is a first class service. If there isn't, then it isn't!
London comes with a lot of history. Keep watching for stories on London's first terminus and the Brunel tunnel, there's plenty more to come. 
---
21 May 2017
Anyone who read our earlier blog on awkward stations will know that this week we were due to visit what is perhaps the most awkward station of all. A station which could only be done on a single day this entire summer …
If you guessed Okehampton … you were wrong.
If you guessed Cambridge North … you were wrong. 
If you guessed Teeside Airport … you were wrong. 
But if you remembered that there is a particular station up in the north of England which is not regularly served, only opens on match days AND that the last match of the season was today, Sunday 21st May … well … then you probably realised we were heading to …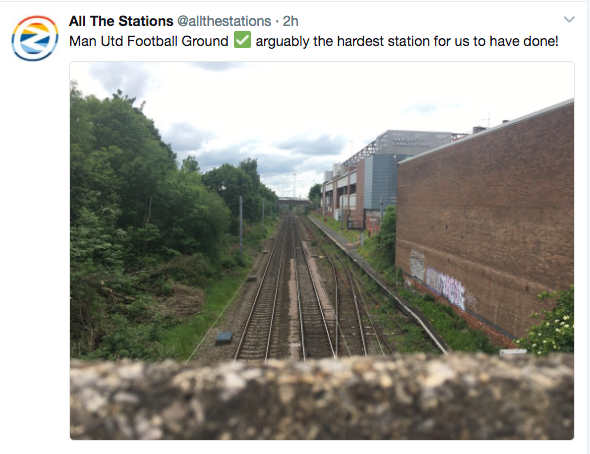 Manchester United Football Ground Railway Station (also known as Manchester United Halt): DONE!
---
20 May 2017
Earlier today, Warren Pilkington set us a challenge on Twitter:
A great question indeed. Not ones to shy away from such a brain-pickling train question we immediately accepted the challenge and … opened it up to our Twitter followers. Warren stated that they had to be different names, so no Gillingham/Gillingham or Berwick/Berwick. 
Within minutes, our clever clog followers had a variety of suggestions. Honourable mentions go to Tilbury/Tisbury (7 letters away), Rye/Wye (5 letters away) and How Wood/Howwood (just a space!).
Below are three pairings which only differ by one letter and a single alphabetical place. If you want to spend the rest of the day agonising over it yourself then we recommend you stop reading …… NOW:
Mottingham/Nottingham
Buxton/Cuxton
Bosham/Cosham
Let us know if you think of any others!
---
18 May 2017
We're approaching  the end of our second week on the trains, and as our journey continues we are noticing a pattern: awkward stations! 
Now this isn't an unforeseen issue. Months of planning and a collective of logistical experts have gone into plotting our route. This has been entirely necessary, as without the right planning or foresight our three-month journey would easily turn into a much larger beast. 
Take Okehampton in Devon for example. Beady-eyed viewers often take one look at our progress map (screenshot below), see that it has not been visited and ask: what happened to Okehamption?! But with only a Sunday-service during the summer months, the station was closed when we travelled through Devon the first week of our journey. We'll have to return in the future, and thorough planning means we can factor the diversion into our plans. 

This is an extreme example, of course. Most stations (thankfully!) do operate a daily service, but that still doesn't make the task of visiting them altogether simple. Timetables simply aren't built around making it as easy and possible to visit ALL the stations in a single area consecutively (bonkers, we know), which sometimes requires us to implement some strategic train-hopping. 
If you've been watching our videos (and we hope you have!), you'll know that we often feature an 'Awkward Station of the Day' award. This is the station that has, quite simply, been an absolute pain in the butt to get to. On day 4 we awarded this dubious title to Feniton station in Devon, while Beaulieu Road snatched it on day 5.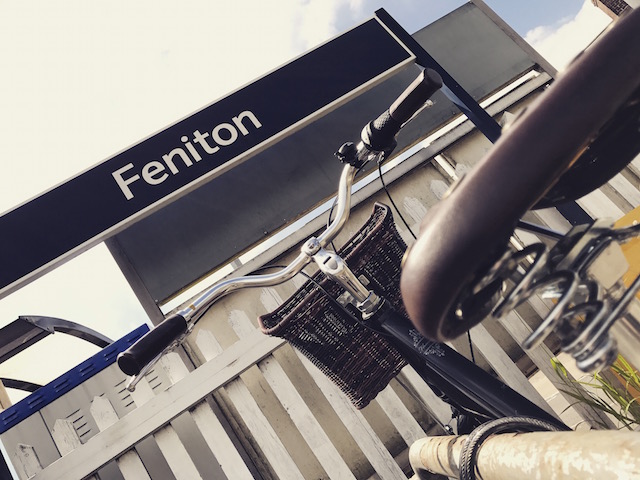 And sometimes, it's less a matter of careful planning and more a matter of running like the wind! One of our bonus videos shows how something as simple as a missed connection can lead to the need for some serious troubleshooting - and some serious speed. Hoorah for Jono and his family who swooped in to save the day at Milford!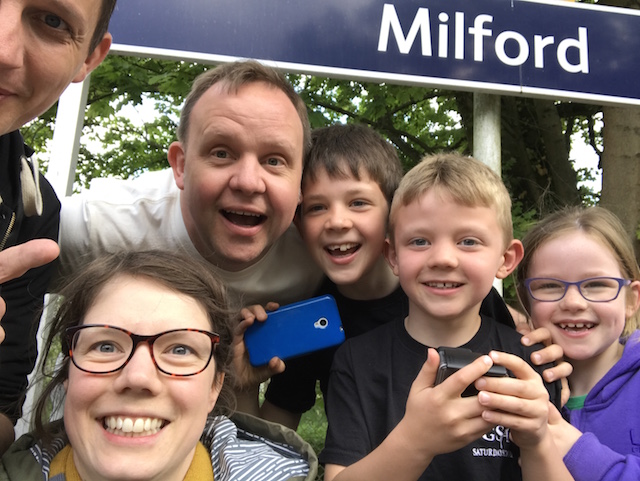 Coming up later this week is perhaps the mother of all awkward stations on this trip. It's a station that there is only ONE opportunity to visit this entire summer. Any ideas what it is? Answers on a postcard!
Until next time …
---
16 May 2017
Something we would like to talk about further along in the journey is how the railways utilise branding, and how effective that is in making their passengers 'feel' a certain way. 
Already we've noticed how swapping between train operating companies can take you from the familiar to the unfamiliar. Some remind us of work, some of holidays, while others are new territory altogether!
But, more on that later. In the meantime we wanted to share some signage from our earlier visit to the Island Line on the Isle of Wight. How do these signs make you feel? For us, they have a certain identity. A ye olde feel, a particular aesthetic, which makes us think of family holidays and ice creams at the seaside (trying to avoid the word 'quaint' here!).
We love that signs, railway or not, can evoke certain feelings and memories in us all. We hope to write more on this as we continue to make our way around the country.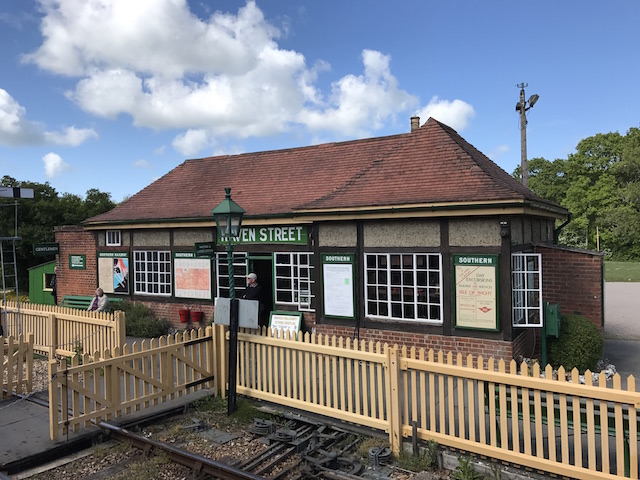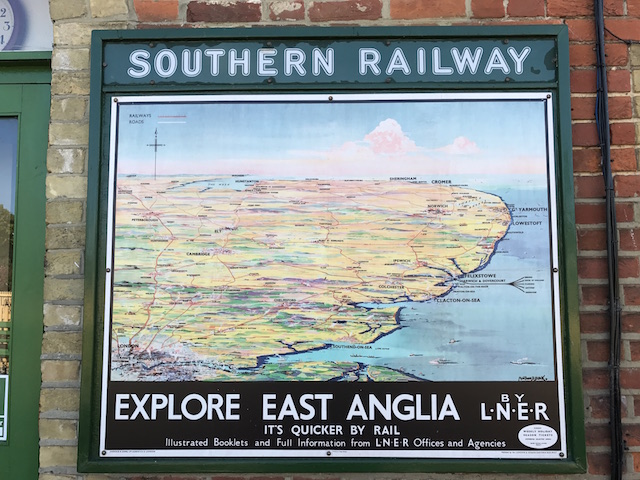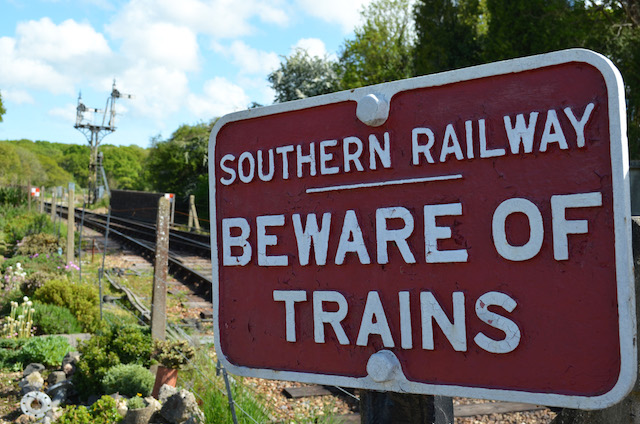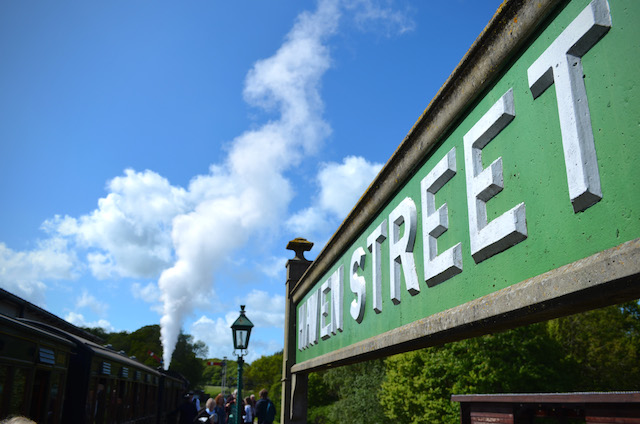 ---
14 May 2017
Today we managed to transport back in time thanks to a visit to the Isle of Wight railways.
The Island Line service from Ryde St John's Road through to Shanklin runs on 1938 London Underground tube stock and, needless to say, we were very much looking forward to getting on board.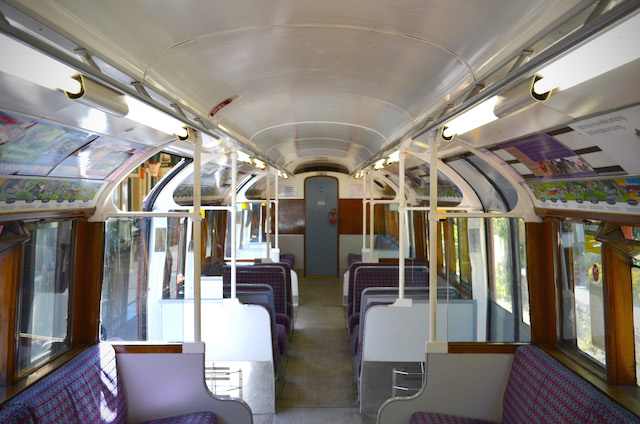 A hundred miles away from its original home, the old A-stock feels at once familiar and yet somehow new, curious, novel. Perhaps it was the glorious sunshine streaming in through the windows! As always the moquette drew our attention and led us to wonder to its origins. We thought old Victoria or Metropolitan line. Any ideas?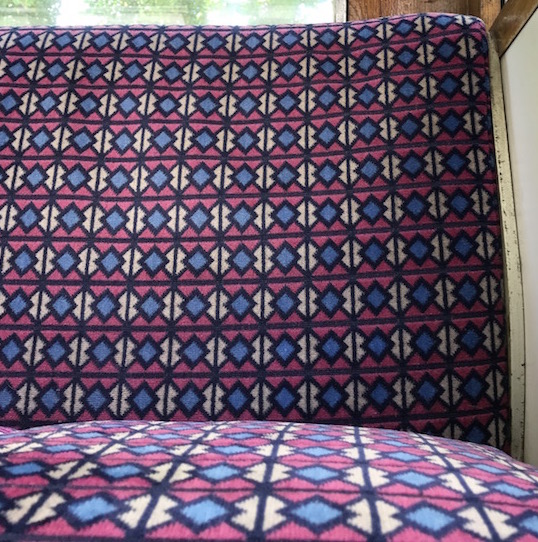 Although heritage lines are not part of the All The Stations remit (you can read more about how we are defining 'stations' on our About page here), the Isle of Wight Steam Railway was calling us at Smallbrook Junction. And who are we to resist such a call?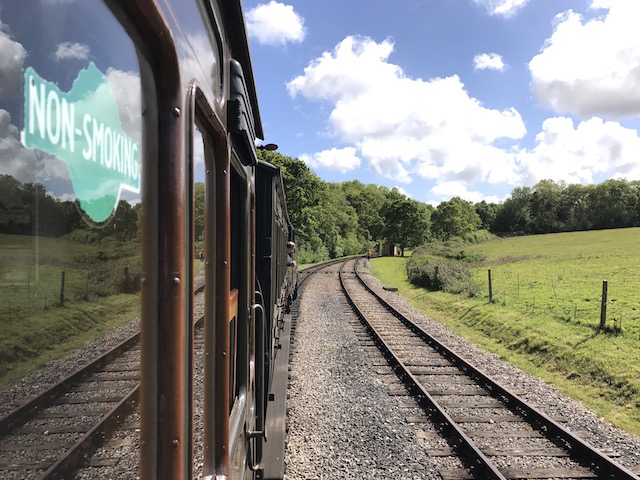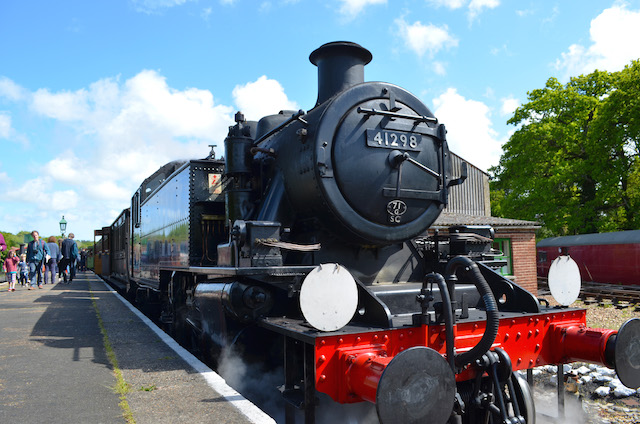 ---
12 May 2017
We've been riding all along the south coast over the last few days, from Exeter to Weymouth to Bournemouth to Portsmouth to Brighton, and several inland stations too.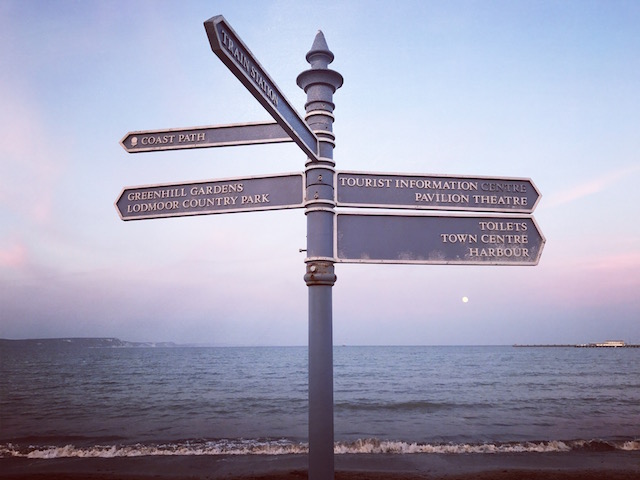 We've stepped out onto the sea wall at Dawlish, where Network Rail did such a fast job repairing the storm damage in 2014. We've been down to the harbour on the spur line at Lymington, and spotted the ocean liners at Southampton, and stopped off to see the Roman villa at Fishbourne.
We'd rather forget the moment in Westbury where we just missed our train and had to wait an extra two hours. But today we've caught our first Southern train… and so far, we're pleased to say, no delays!
Have a great weekend everybody, 
Geoff and Vicki
---
11 May 2017
It's been such an absolute pleasure to meet and talk to staff across the South West, on Great Western Railway and on South West Trains. We've spoken with drivers, platform staff, guards and revenue inspectors, and there's been lots of support for the project across the board. This lovely GWR train crew on our way to Falmouth even gave us a shout out over the tannoy!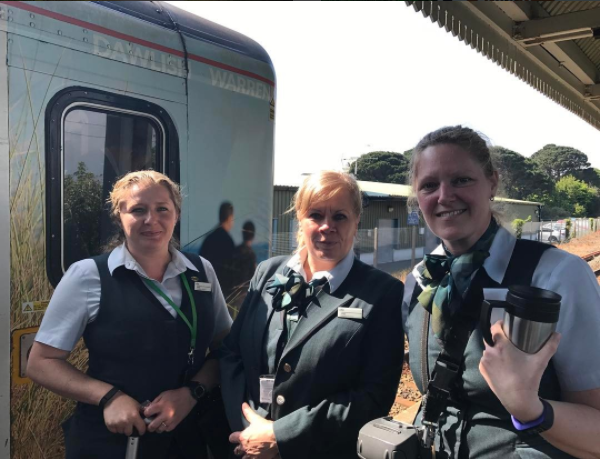 We've been meeting everyday passengers too, because that's what the project's all about, and filming some really interesting conversations. And in Bodmin we just happened to meet one of our Kickstarter contributors, who was coincidentally on the same train, so were able to offer him our thanks in person.
Thank you all for your support and feedback, and for the kind words you've been writing on social media, it means a lot to us!
Geoff and Vicki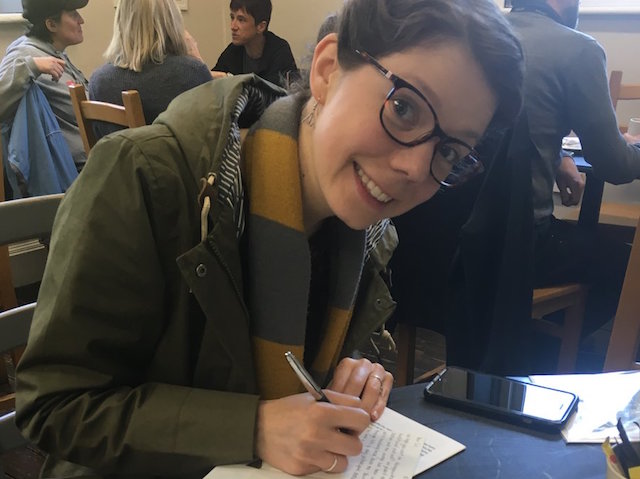 Vicki writing a reward-postcard to one of our lovely pledgers at Barnstaple station!
---
09 May 2017
On our third day we've crossed the Tamar Bridge to enter Devon, and Cornwall becomes the first county where we've visited All The Stations. Yesterday we rode the branch lines to Newquay and Falmouth… where we made sure we found time to climb the rock overlooking the harbour to visit Pendennis Castle.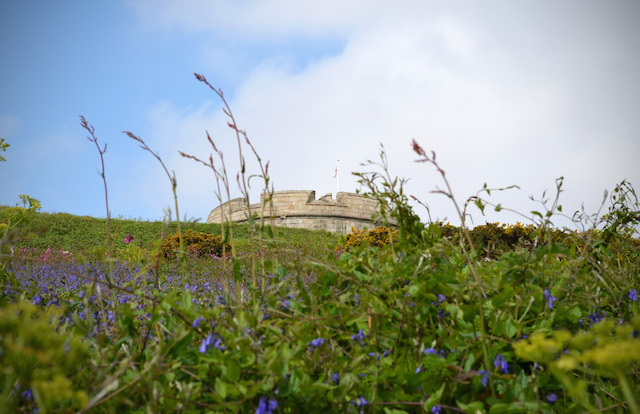 Today we took the single track branch line to Looe, where Vicki was surprised to see some mechanics behind the driver changing the points, and Geoff decided that tiny Coombe Junction Halt is his favourite station ever.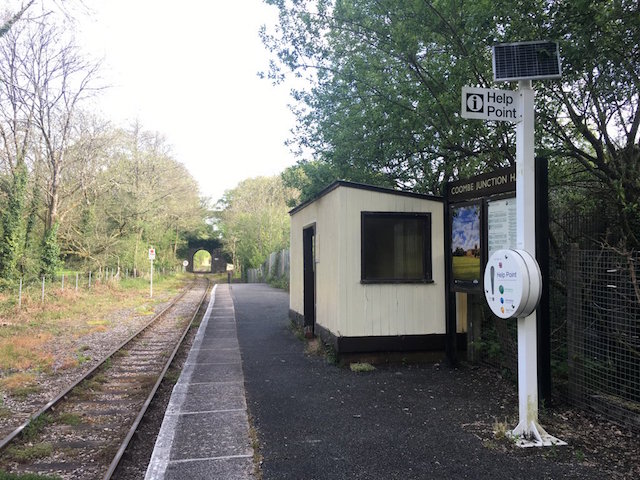 With the line to Gunnislake also ticked off, that's the whole of Cornwall under our belts! It's been fascinating to see how the landscape changes so quickly from one region to another; rolling hills, meadows with overgrown hedgerows, urban industry, harbours and seas!
You can enjoy listening to our interview with Radio Cornwall here, and watch our Cornwall video here.
To the trains!
Geoff and Vicki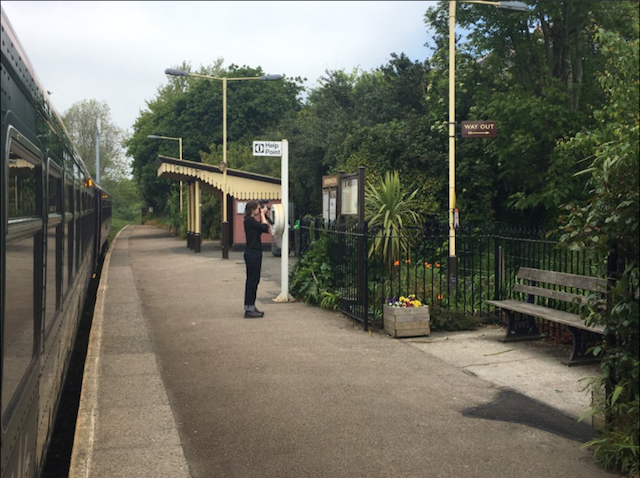 ---
07 May 2017
We've begun our round-Britain challenge to visit All The Stations! We set off from Penzance station this morning with our rucksacks packed and our shiny new All Line Rover tickets, ready to tackle the line to St Ives.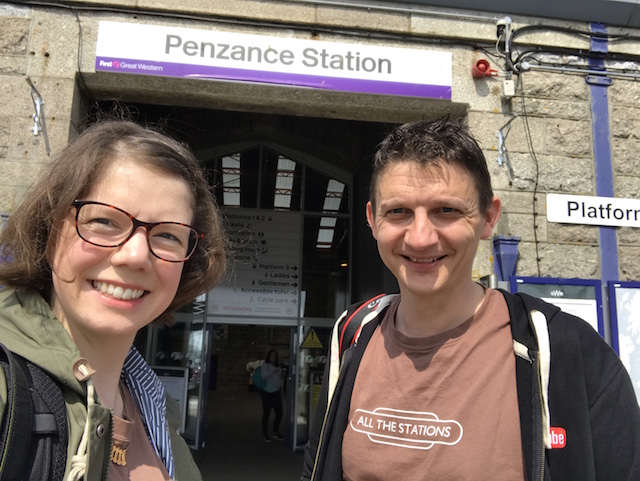 St Ives was just far too beautiful! Set on an idyllic coast line, with a great winding cobbled street, it was everything we'd hoped for and more. We loved the town, despite the seagulls, and we're already making plans to come back one day.
On the way back to Penzance we stopped off at Lelant Saltings, and tiny Lelant - the first of many request stops along our journey - and thankfully the driver stopped when we flagged him down! Here's the video of our Day 1 adventures.
Thanks for following along,
Geoff and Vicki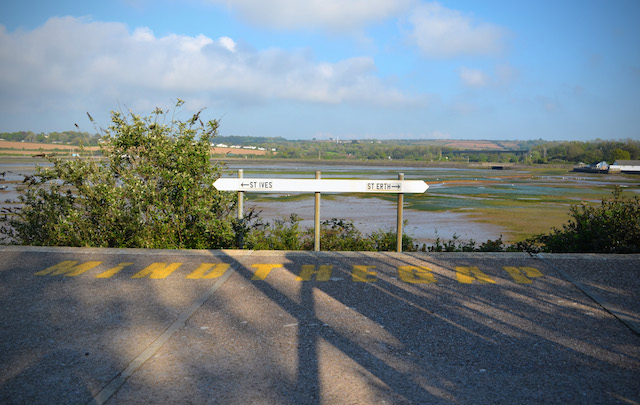 ---